Posts Tagged 'Johann Sebastian Bach'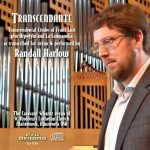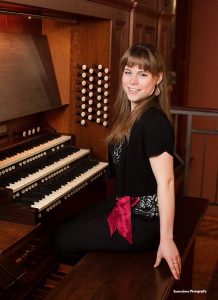 This week we talk with Katelyn Emerson, winner of the 2016 National Young Artists Competition in Organ at the AGO National Convention in Houston. She took a moment while on tour in Paris to tell us about the competition and her future plans. Listen to it here:
Music Heard in this episode:
Performed by Katelyn Emerson
Charles Tournemire
Victimae Paschali Laudes
Johann Sebastian Bach
Allein Gott in der Höh sei Ehr (BWV 676)
Live Recording from NYACOP Competition, June 18, 2016
1996, 2004 IV/80 Schantz, St Paul's United Methodist Church, Houston, Texas
Maurice Duruflé
Prelude et fugue sur le nom d'ALAIN, op. 7
1855 IV/68 Cavaillé-Coll, Cathédrale Notre-Dame, Saint-Omer, France
Podcast: Play in new window | Download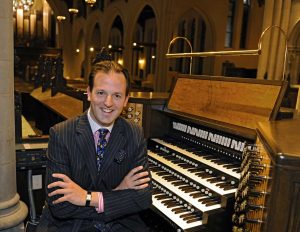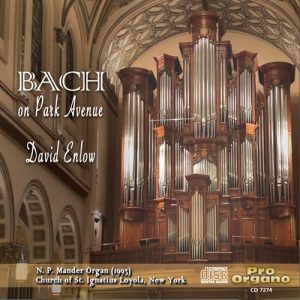 Today we're talking with David Enlow, organist of the Church of the Resurrection in New York City, a member of the organ faculty of The Juilliard Schooland Dean of the New York City Chapter, American Guild of Organists. He's discussing his latest album on the Pro Organo label, "Bach on Park Avenue".
Bach on Park Avenue at Pro Organo records
Podcast: Play in new window | Download
We begin our first show of 2016 with music from the Baroque period on period instruments. Listen to it here:
Music heard in this episode:
Dieterich Buxtehude
Toccata in D Minor (BuxWV 155)
Christopher Herrick
Buxtehude: The Complete Organ Works, Vol. 2 – Hyperion CDA67809
1930 IV/162 Steinmeyer/Kuhn, Nidaros Cathedral, Trondheim, Norway
Johann Sebastian Bach
Contrapunctus 14 Canon alla 10ma
Johannes-Ernst Köhler
JS Bach: Musical Offering – Art of the Fugue
1746 III/79 Hildebrandt/Eule, St. Wenzel's Church, Naumburg, Germany
Dieterich Buxtehude
Passacaglia in D (BuxWV 161)
Gosse Hulzinga
A Baroque Organ Recital
1736 II/32 Hinsz, Buitenkerk, Kampen, Netherlands
John Stanley
Concerto No 2 in B minor for Organ and Strings
Leslie Jones
The Little Orchestra of London
John Stanley: Six Concertos, op. 2
Podcast: Play in new window | Download
This week's episode features the music of Johann Sebastian Bach performed on organs by Silbermann. Listen to it here:
Music heard in this episode:

Johann Sebastian Bach

Prelude and Fugue in D major (BWV 532) – MP3 Download
Christoph Albrecht
Music on Silbermann Organs, Volume 4 – Berlin Classics
Chorale Prelude for Organ "Herr Gott, dich loben wir" (BWV 725)
Gunther Metz
Music on Silbermann Organs, Volume 5 – Berlin Classics
1728 II/17 Silbermann, Protestant-Lutheran Church, Helbigsdorf, Germany
Trio Sonata No. 6 in G Major (BWV 530) – MP3 Download
Erich Piasetzki
Music on Silbermann Organs, Volume 9 – Berlin Classics
1748 II/19 Silbermann, Nassau Protestant Church, Nassau, Germany
Podcast: Play in new window | Download
Welcome to November. We start off this month with a show for All Saints' Day. Listen to it here:
Music heard in this episode:
Podcast: Play in new window | Download
This week we stay in Lincoln, Nebraska as we talk about the Schoenstein organ of First-Plymouth Congregational Church in Lincoln, Nebraska. Brent Johnson is joined by First-Plymouth Minister of Music Tom Trenney and President and Tonal Director of the Schoenstein Organ Company, Jack Bethards. Listen to it here:
Music heard in this episode:
All works recorded on the 1998 IV/95 Schoenstein, First Plymouth Congregational Church, Lincoln, Nebraska

Also:
Podcast: Play in new window | Download
This week's show we talk about several organ festivals happening around the world. Listen to it here:

Music heard in this episode:
Johann Sebastian Bach
Concerto in G Major
James Dale
Exultate – Pines
1908 V/268 Hutchins/Moller, Naval Academy Chapel, Annapolis, Maryland

Trio Sonata in C Major – MP3 Download
Paul Jacobs
Paul Jacobs Plays Bach – JAV 145
1971 III/54 Beckerath, Dwight Chapel, Yale University, New Haven, CT

Claude Debussy
Le Cathedrale Engloutie
Carol Williams
Mainly French – Melcot MCTCD018
1998 IV/50 Austin, St. Mary's College Chapel, Moraga, California
Felix Mendelssohn
Allegro, Chorale and Fugue – MP3 Download
Carole Terry
Carole Terry Plays the Watjen Concert Organ – Loft LRCD 1105
2000 III/83 C.B. Fisk, Benaroya Hall, Seattle, Washington
Podcast: Play in new window | Download