This week our around-the-world trip goes to the Philippines, home of The Bamboo Organ. Listen to it here: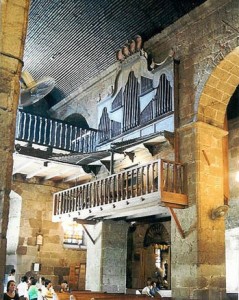 Music heard in this episode:
From the album Historical Organs of the Philippines, Vol. 4: Las Piñas (Bamboo Organ) VDE-GALLO
Performed by Guy Bovet
in St. Joseph Parish Church in Las Piñas City, Philippines.
Antonio Soler
Sonata No 62 in B-Flat Major Allegro Spiritoso
Juan Cabanilles
Tiento al Vuelo, Sexto Tono
Wolfgang Oehms
8 Pieces of Filipino Folk Tunes, Written for the Bamboo Organ (parts 1 & 2)
Guy Bovet
Variations On Purihin Ang Panginoon (Praise the Lord)