This week's show continues our trip around the world with a stop in the Cathedral of Satiago de Compostela. Listen to it here:
Music heard in this episode:
Organist Manuel Cela
Johann Sebastian Bach
O Mensch, bewein dein sünde groß (BWV 622)
Alexandre Boëly
Fughetta sobre el Kyrie de Angelis
Jan Zwart
Hymne Psalm 75
Johann Sebastian Bach
Vor deinen Thron tret ich hiermit (BWV 668)
Organist Aart Bergwerff
Dick LeMair
Santiago de Compostela – MP3 Download
Impressions of a Pilgrimage
Jean-François Dandrieu
Mussette et grand jeu sobre O Filii
This week we start our summer organ tour around the world, and it starts in Christchurch, New Zealand, home of the "Cardboard" Cathedral. We feature some unique sounds from the Cathedral's new 4-manual Rodgers Infinity 484MV Digital organ. Listen to it here:
Music heard in this episode:
All works are from the album Cardboard Cathedral Organ Capers
performed by Martin Setchell
Johann Sebastian Bach
Largo from Concerto no. 5 (BWV 1056)
Antonin Dvorak
Largo from the New World Symphony
Martin Setchell
Wedding March Extraodrinaire
Robert Schumann
Canon in B minor, op. 56 no. 5
This week we're celebrating the 238th birthday of the USA with a show of patriotic music from Atlanta and Boston. Listen to it here:
Music heard in this episode:
Dudley Buck
The Star Spangled Banner – Concert Variations – MP3 Download
Alan Morrison
Live from Spivey Hall – ACA CM20022
1991 III/79 Ruffatti, Spivey Hall, Clayton State University, Atlanta, Georgia
Charles Ives
Variations on America
Jens Korndörfer
Live performance – January 27, 2013
1968 III/50 Holtkamp, Spelman College, Sisters Chapel, Atlanta, Georgia
Peter Ilyich Tchaikovsky
1812 Overture
Frederick MacArthur
Old South Brass and Tympani
The Old South Brass Organ and Timpani – Pro Organo CD7051
1920 IV/123 E.M. Skinner, Old South Church, Boston Massachusetts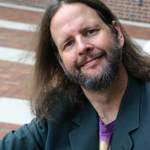 This week we hear an interview with organist Paul Fejko, Music Director and Organist of Gloria Dei Old Swede's Episcopal Church in Philadelphia. Listen to it here:
This week we explore some organs outside of churches from all over the world. Listen to it here:
Music heard in this episode:
Links mentioned in this week's show:
This week's show is about the 100th Anniversary of Gustav Holsts's The Planets, among other things. Listen to it here:
Music heard in this episode:
Gustav Holst
Mars: The Bringer of War, from Suite for Large Orchestra, op. 32
Peter Sykes
The Planets – Raven OAR 380
1931 IV/106 Aeolian-Skinner, Girard College Chapel, Philadelphia
Thomas Armstrong
New Year Carol, for Chorus – MP3 Download
Robert Sharpe

Lichfield Cathedral Choir, Andrew Lumsden, Conductor
Christmas from Lichfield – Nimbus 5496
1861 IV/91 Holdich / William Hill and Sons, Lichfield Cathedral, Lichfield, England
Louis-Claude Daquin
The Cuckoo
Lorenz Maycher
The Aeolian-Skinner Sound – Raven OAR 710
1955 III/25 Aeolian Skinner, Trinity Episcopal Church, Bethlehem, PA
Franz von Suppe
Poet and Peasant Overture, transcribed by Edwin H. Lemare
Frederick Hohman
Lemare Affair IV – Pro Organo CD 7270
1924 IV/81 Austin, Soldiers and Sailors Memorial Auditorium, Chattanooga, TN
Charles François Gounod
Marche Pontificale
Charles Callahan
Charles Callahan Plays the Organ of the Church of the Holy Family, New York City
1996 V/76 Turner, Church of the Holy Family, New York City
Jehan Alain
Deuxième Fantaisie
Paul Vencine
Recorded live in 1997
Church of St. Nicholas, Brussels, Belguim
We celebrate the return of At The Organ today with a Pentecost episode by our new host, Jim Logue. Listen to it here:
Music heard in this episode:

Johann Sebastian Bach
We also hear some audio from this YouTube Video of James Hicks at the organ in Linkoping, Sweden:

We're happy to announce that At The Organ will be returning this Sunday with a new host, Jim Logue. You can hear it on Organlive.com each Sunday at 6am and 6pm Central Time, or you can find it right here, anytime after 6am on Sunday. We hope you'll enjoy our reinvigorated show and share it with your friends!
Our website went away briefly when one of our hosts changed an IP and we didn't catch it. Everything's back, and we're putting the last few missing (actually the first few) episodes back on the site.
Unfortunately we don't know when the show will go back into production, but things are moving to get it back up and running. And we're also looking forward to some fun live events this summer. Keep watching here for more updates.